Traveling is an amazing way to learn about new countries, cultures and people. Tomi and Mimi traveled to Vietnam this summer, they experienced and saw so many interesting new things, people and places. Before they left, though, Tomi and Mimi learned about the country they were going to see. And they did that in a creative way, read on for tips and resources.
Before leaving for Vietnam
When Tomi and Mimi heard they were going to visit Vietnam, they wanted to know more about this Asian country. So, together with their parents they read books about Vietnam, listened to Vietnamese legends, found in on the map, learned about Vietnam's history and watched shows about the way of live in Vietnam.
Learn about Vietnam through stories, legends and books
Vietnam has many legends that have been told for centuries. Some are about moments in history when dragons helped the people fight off invaders, others are about magic or stories with morals. Here are a few to read before you go.
The legend of Chu Cuoi, the man on the moon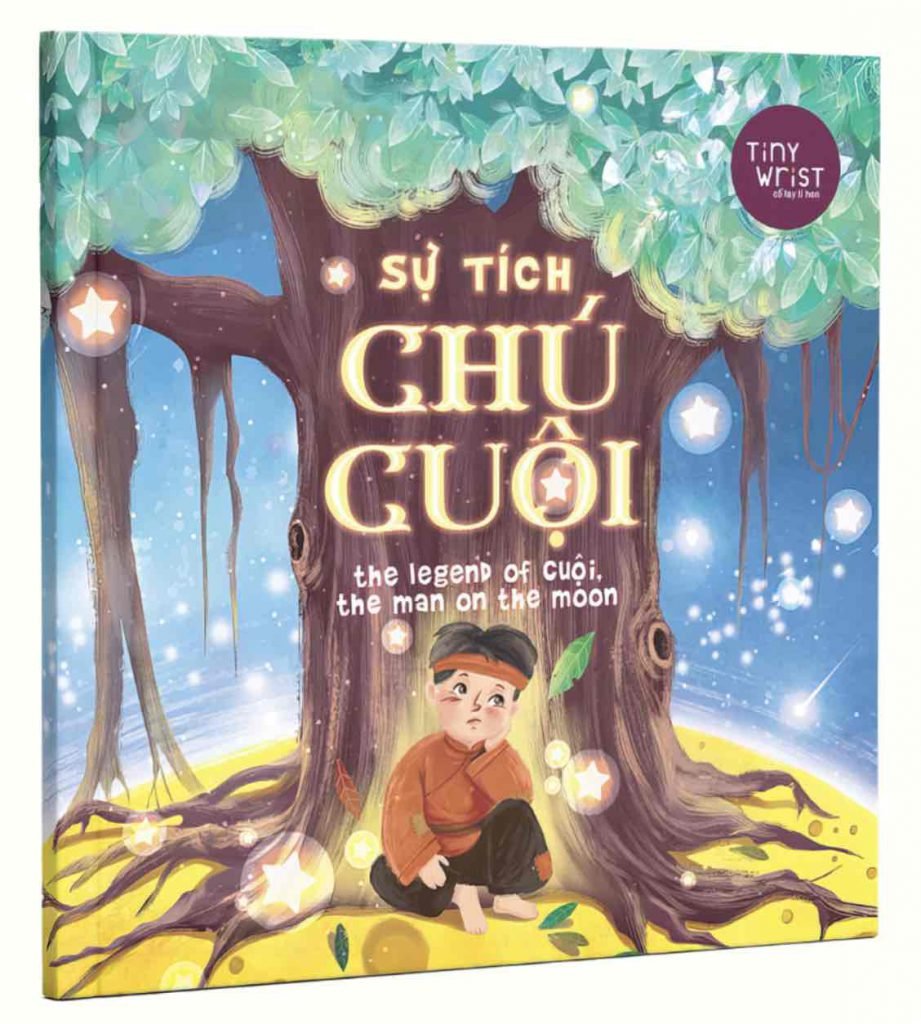 Tomi and Mimi read the book The Legend of Chu Cuoi, The Man on the Moon, by Tiny Wrist, a classic Vietnamese legend about where the man on the moon had its origins. The story involves a magic tree, a caring young man and bucket of water… Lovely illustrations and a great retelling of the legend. Tomi and Mimi loved every bit of this book.
Vietnamese Fairytales
Sit down and cuddle up with a good … tablet. Vietnam.com has a wonderful collection of Vietnamese fairytales to read with the children. The stories are short enough to stay interesting for smaller children.
The most famous Vietnamese fairytale is probably Tam Cam which is generally known as the Vietnamese Cinderella.
Since you're reading from a webpage and not from a book with pictures, encourage the children to draw their own illustrations to go with the story. Visit Vietnam.com here and start reading!
Vietnamese Children's Favorite Stories
If you rather read Vietnam's most popular children's stories from a book with beautiful illustrations, Tomi and Mimi recommend Vietnamese Children's Favorite Stories by Phuoc Thi Minh Tran. Some stories like The Story of Tam and Cam might sound familiar to those who read Cinderella, but others like Why The Sea is Salty or The Jade Rabbit will be new. Wander through the pages and let the delicate watercolor illustrations make you curious about the stories to read. Enter a world of magic and moral and dive into the rich history of Vietnam's legend and folk stories.
My First Day
Follow along on this beautiful, exciting and sometimes dangerous adventure of a young boy who lives in the beautiful Mekong River Delta in Vietnam. The enchanting and mesmerizing illustrations show the landscape change from open river to mangrove forest to lotus flower paddies and the wading spots of the buffaloes. My First Day by Phung Nguyen Quang and Huynh Kim Lien is a great book to enjoy a beautiful book and at the same time learn about life on the Mekong where everything is about the river, even the way to school.
Tomi and Mimi read this book before visiting Ho Chi Minh City and learned this way about the Mekong River, the mangroves, the animals native to this Mekong and more.
Learn about Vietnam with Mouk
Tomi and Mimi totally LOVE Mouk, the easily likable bear who travels around the world by bike. Together with his friend Chavapa they discover the world and make new friends along the way. Mouk is originally a French animated television series, but has been translated and made available on YouTube for all to enjoy.
Mouk – Puppet Masters
The Puppet Masters episode is about the Water Puppet Theater that is so popular in Vietnam. Tomi and Mimi have been to a Water Puppet Show themselves and you can read about it here. The art form originates from Vietnam, Hanoi to be more exact. It is adorable, funny and a marvelous experience to have when traveling to Vietnam. Water Puppet shows are offered in many places, like Hanoi, Ho Chi Minh City and Hoi An to name a few.
Mouk and Chavapa help their new friend to restore the puppets so that everyone can enjoy the show that night. It is a great show to watch before leaving for Vietnam, especially if you are planning on going to a Water Puppet Show yourself.
Mouk – In The Paddy Fields
When you visit Vietnam you will see many rice paddies. Even if you stay in the city, most likely on the way from the airport you will see someone with the typical coned hat bend over working in the rice paddies. Many tours also offer bike rides through the paddy fields or riding a water buffalo, like the locals do. Look for these tours around Hoi An and Danang in Central Vietnam.
Mouk and Chavapa let their paper boats race in the rice paddies of Vietnam but to guide them they play around with the water gates which has – of course – consequences for the water flow in the paddy fields. Luckily they can fix the situation together with their new friend and help keep the water in the upper levels of the paddies.
Mouk – Bamboo Plantation
Bamboo grows lush in Vietnam and many products are made from bamboo. Tomi and Mimi found many souvenirs made of bamboo like the iconic cone hat or baskets for their toys.
Mouk and Chavapa join their friend on a visit to her aunt, a bamboo artist, when they get lost in the bamboo forest while helping to bring bamboo to her work place. Luckily they find their way back thanks to a little cuddly friend.
Learn about Vietnam geography
Tomi and Mimi used the world map to see where Vietnam is located and together with their parents they looked at the cities they were going to visit. Take a look at Tomi and Mimi's favorite resources for geography.
Maps Gold Edition
A treasure book is what you may call Maps by Aleksandra Mizielinska and Daniel Mizielinski. This oversized book contains many countries in Europe, Asia, the Americas, Africa and Australia and every country is richly decorated with national foods, animals, landmarks, cultural events and more. This is the Deluxe Edition (gold) it has more countries than the original edition (blue) which does not contain Vietnam (among others)
National Geographic
Of course National Geographic can not be skipped when learning geography. National Geographic Kids has a neat page about Vietnam with all kinds of interesting facts and information. Tomi and Mimi thought it was very useful and loved the photos of Vietnam. Check out the National Geographic Kids website here.
Learn about Vietnam's language
Tomi and Mimi loved learning simple words and phrases before traveling to Vietnam. They used language apps like Mondly and Rosetta Stone. There are also nice books with first words in Vietnamese, like this book My First Book of Vietnamese Words by Phuoc Thi Minh Tran that follows the alphabet teaches Vietnamese words with cute rhymes.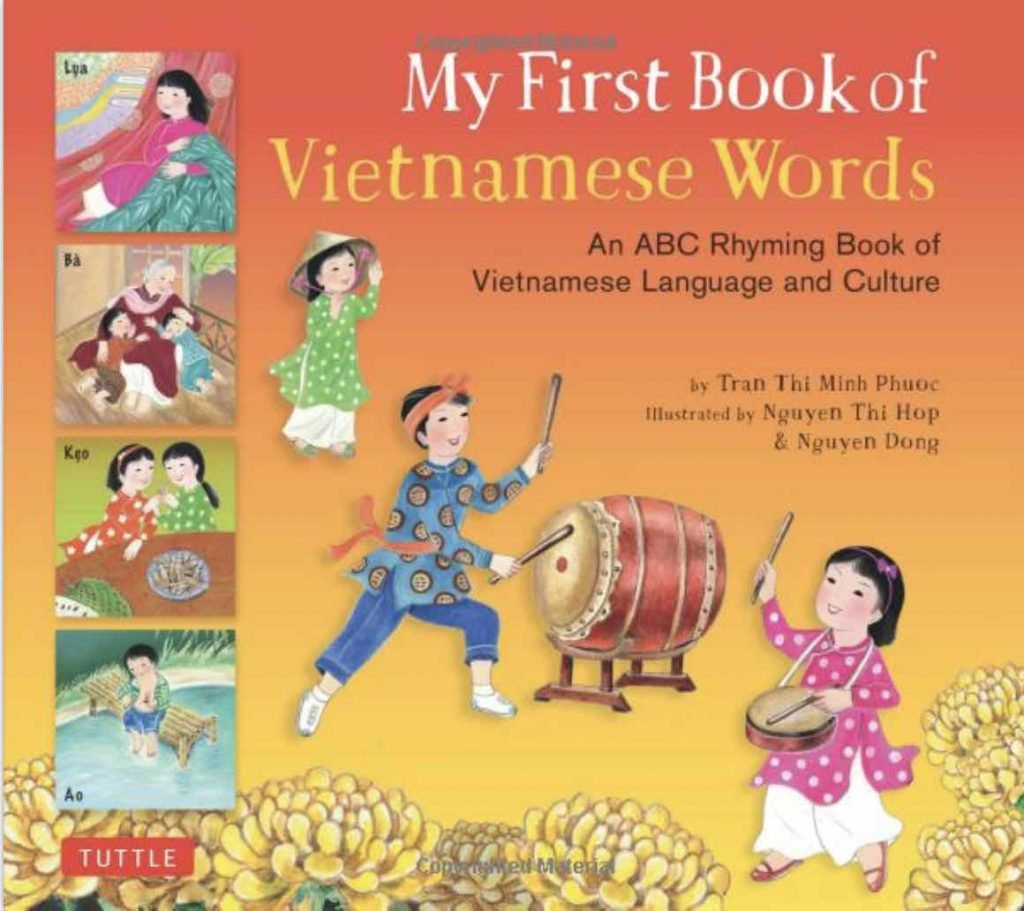 Enjoy Learning about Vietnam
Tomi and Mimi loved learning about Vietnam and loved being in Vietnam even more. It made it even more special that they knew so much about the country before visiting it and greeting the locals in Vietnamese made everyone smile. Tomi and Mimi hope that you will use their favorite resources to learn about Vietnam.
Chao Tam Biet!