Vietnam is a wonderful country to visit with children. Tomi and Mimi found there are plenty of lovely things to do for children. And everyone was so very kind to them. Vietnam might very well be their new favorite destination. Here are the top 5 things to do in Vietnam with kids, child approved.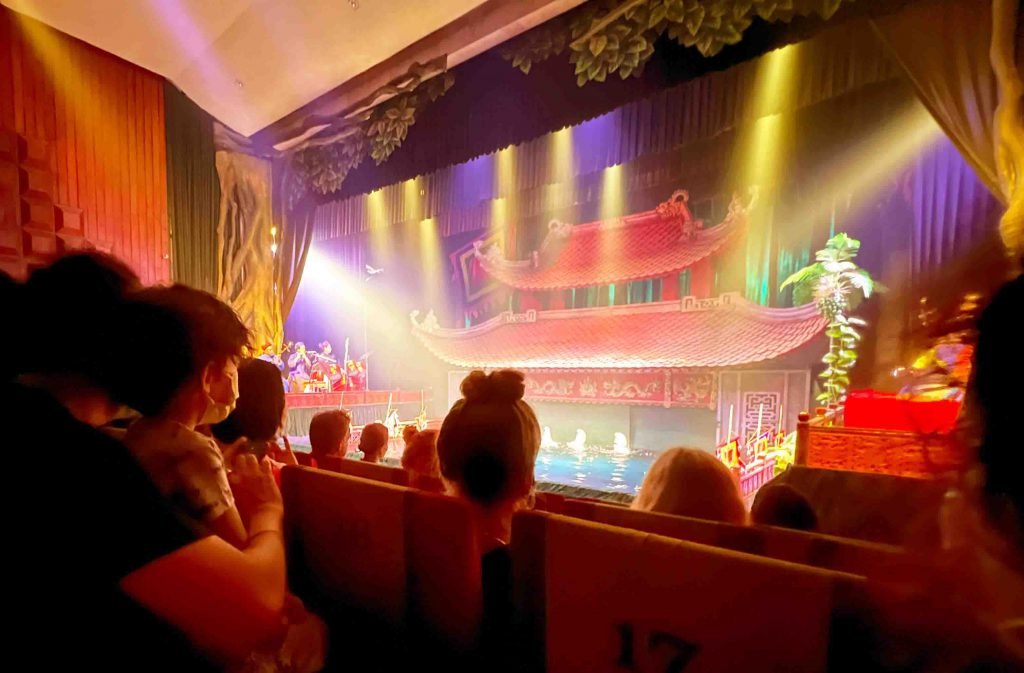 Visit a Water Puppet Theater
Water Puppet Theater shows are traditional Vietnamese entertainment that started with the farmers performing legends or funny every day life scenes in the rice paddies and in the fields. Nowadays, the performances are in theaters with a water basin on stage. There is traditional live music that accompany the puppets on the water. Behind a screen are the puppeteers who move the puppets, connected to long bamboo poles. It is a fantastic experience, a real must do when in Vietnam. There are theaters in Hanoi, Ho Chi Minh City, Hoi An as far as we know, but there must be more. Check out our post about water puppet shows in Vietnam or read our review of the Thang Long Water Puppet Theater in Hanoi for more information. Where ever you will go, a water puppet show has to be in your top 5 activities in Vietnam with kids.
Hop On Hop Off bus tour
The best way to see any city with children is to take a city tour bus. Hopping on and off makes it easier to see the different landmarks and tourist attractions without grabbing a taxi or arranging a private driver. Besides that, the children can take a catnap while the grown-ups enjoy the scenery without stress. Luckily, Vietnam has HOHO bus tours in both the big cities of Hanoi and Ho Chi Minh City. Just be sure to check their schedule, because there are times of the year they don't run or run on a reduced schedule.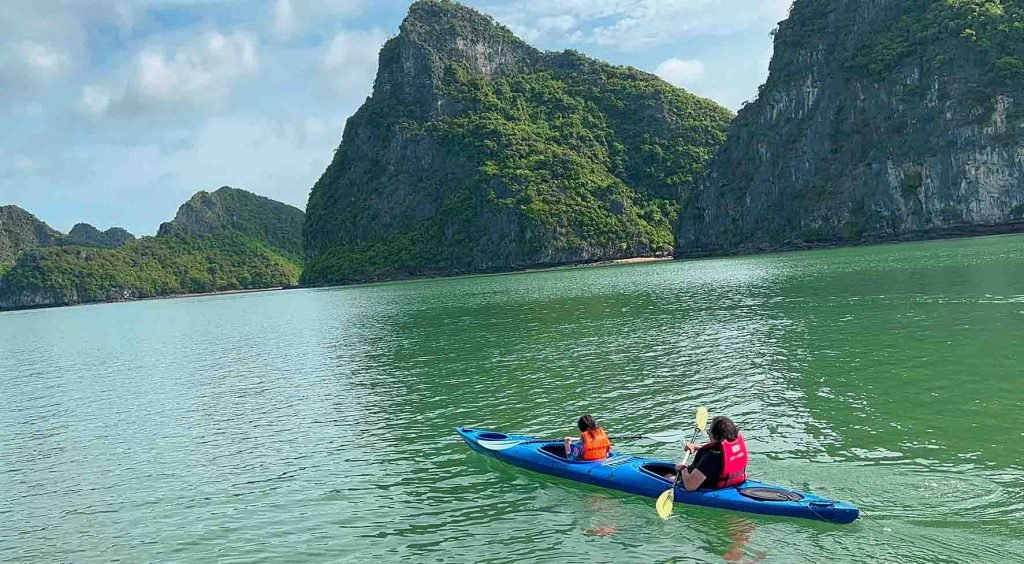 Ha Long Bay Cruise
Of course the famous, beautiful Ha Long Bay cannot be missed on a Top 5 Vietnam, even with kids. We went to Ha Long Bay and enjoyed a marvelous time on a cruise ship. Before you think mega ships with theater, water park and shopping mall… these are smaller boats with rooms ranging from about 15-40. Ha Long Bay is a protected nature reserve, so although there are many boats floating out every day, it is still very tranquil and beautiful. For (older) children there are great things to do, kayaking in the bay, swimming, cooking class or Tai Chi. Every cruise will have activities, no matter with whom you book. If you stay longer than one night, you will also have the option to visit nearby islands, bike through nature, or visit local a local floating village. We went with Orchid Cruises and had a great experience.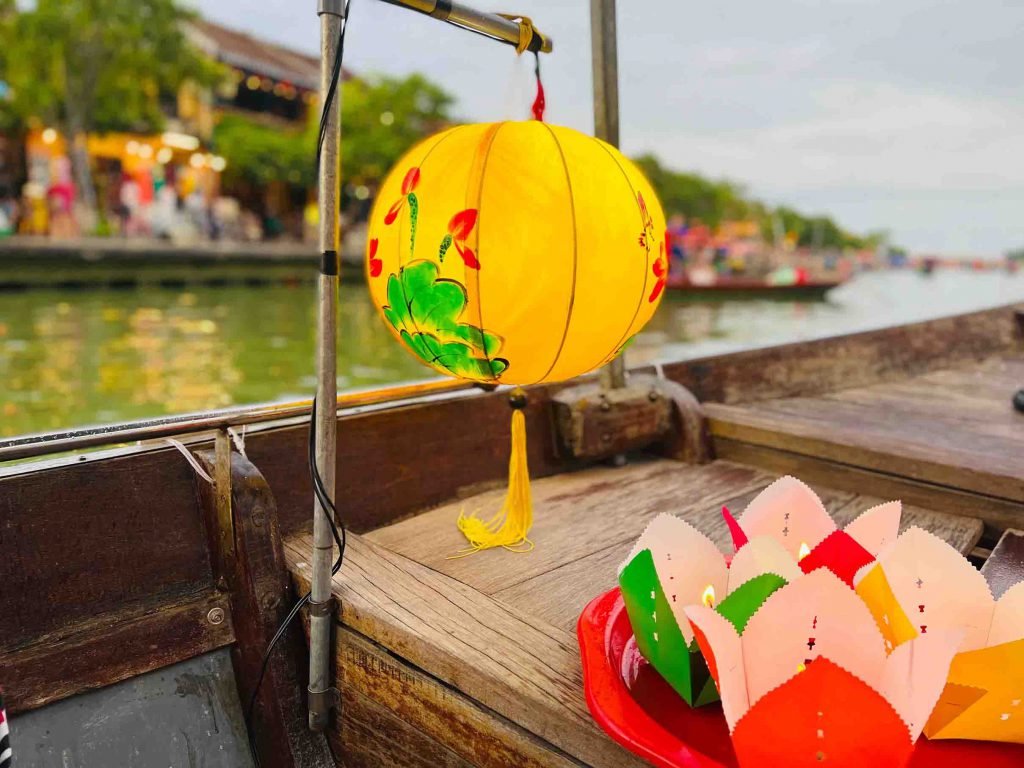 Visit Hoi An, Central Vietnam
Also known as the City of Lanterns, this historical trading post is filled with old buildings, teahouses, restaurants, shops, museums, and … lanterns. There are lanterns to make, lanterns to buy and lanterns to lit. Tomi and Mimi went on a little boat ride and placed a lit candle in the water. It was a lovely sight and all the little lanterns together were making a colorful feast on the river. For things to do in Hoi An, have a look here or come back later for a Hoi An blog by Tomi and Mimi.
Eat Bahn Mi and Pho
There are many delicious foods to try in Vietnam, but certainly the Bahn Mi sandwich is the most famous. Pho, the popular noodles soup, might as well be as well known as the Bahn Mi. Surely, both are absolute crowdpleasers. Bahn Mi is grilled meat, herbs and pate on a baguette. There are veggie versions too in some places and the toppings vary per venue. The baguette was introduced to Vietnam by the French, who occupied Vietnam until the 1970's. Pho is a breakfast dish consisting of a flavorful broth, noodles and various toppings. Again, the toppings vary where you go, but mostly it's spring onions, cilantro and greens. Tomi and Mimi were ready to eat these foods for breakfast, lunch and dinner – and find out which one is the best in the process. Vietnamese food is very child-friendly in general, so go ahead and enjoy some good Vietnamese food.
Enjoy!
Of course Vietnam is a huge country and there are SO many more things you can do! This Vietnam with kids Top 5 is just a little tip of the iceberg. We haven't even mentioned the beach in DaNang or a Mekong cruise in Ho Chi Minh City, let alone visiting the BaNa Hills by cable car or driving the Hai Van Pass, visiting the Temple of Literature or walking through the Imperial city in Hue. There is so much to do and to see in Vietnam… We will keep writing about our travels and adventures, so be sure to check back in.